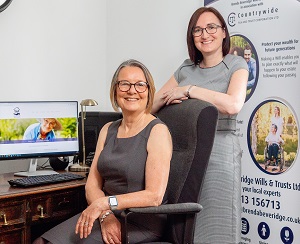 Welcome to Brenda Beveridge Wills and Trusts, a family run business based in North West Durham, covering the UK and even internationally (for those with assets in the UK).
Because there's not a 'one size fits all' solution to your planning we offer an hour of our time, free of charge & with no obligation. During which we'll discuss your individual requirements and provide recommendations specifically for you.
You might be unsure as to whether it's better to have an online or face-to-face meeting during the current COVID situation, just give us a call & we'll discuss what's best for you. Also, remember that using our new software, distance is no barrier as we work countrywide and even internationally.
We work with both members of the public and collaboratively with a range of professionals to enable them to provide Estate Planning services to their clients. These include Financial Advisors, Estate Agents, Accountants and Business Advisors.
Also, if you're part of a Business Network or Community Group & would like either an online or face-to-face talk about the advantages of having a Will in place, we'd be happy to help.
Writing a Will and talking about death is a difficult subject, but it doesn't have to be. You can look at it in a positive way, focusing on the benefits it will have for your family and their future.